Every year, marketers have the opportunity to leverage the newest trends in marketing software to speed up tasks, optimize their workflows, and improve the results of their digital marketing campaigns. For organic search specifically, these tools empower users to automate SEO tasks that have previously required lots of time, resources, and manual effort.
So in the age of ChatGPT and advanced marketing software platforms, SEO automation is now an essential step in scaling your content strategy and keeping pace with your top competitors. As more and more platforms add artificial intelligence, APIs, and automation features to their offering, that means more of your competitors will be using these tools to rank higher and create content faster.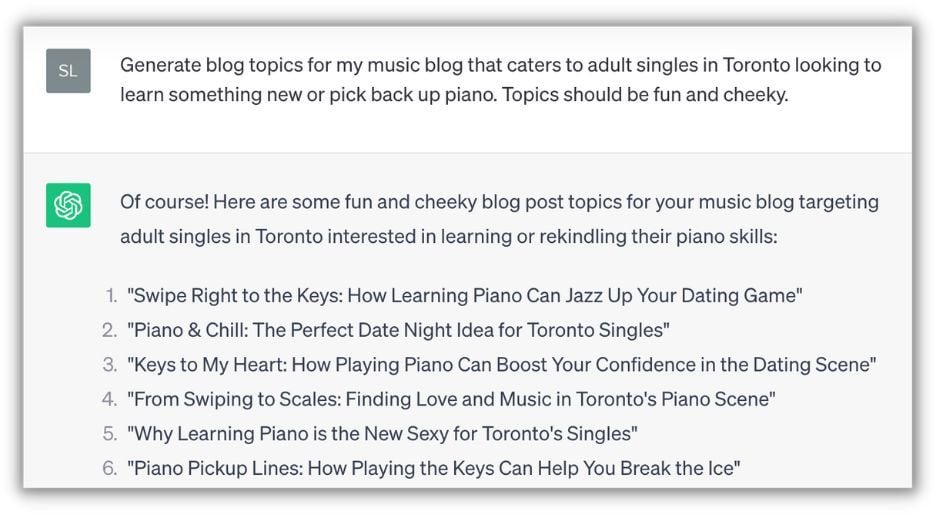 That's why it's essential to learn what SEO tasks can be automated and which still require a human touch. This article will cover the basics of SEO automation, including:
What is SEO automation?
The benefits of SEO automation
Recommended SEO automation tools and software
SEO tasks that you can automate using software
SEO tasks you shouldn't automate
What is SEO automation?
SEO automation refers to the process of using software or tools to perform tasks related to search engine optimization. These tools are designed to automate tasks that are otherwise very time-consuming, resource-intensive, and require a lot of manual effort on behalf of marketing team members.
Automating specific SEO tasks has become more common in recent years as SEO marketing software platforms offer more automation features and AI integrations. If you're not automating the more time-intensive tasks of your SEO work, you will likely fall behind competitors who are already outsourcing those tasks to robots.
Want to learn more about using AI to automate marketing? Download >> Emergency Guide to AI in Marketing
Benefits of automating SEO
SEO automation tools can help improve the efficiency and effectiveness of SEO strategies, by eliminating the need for repetitive tasks and freeing up time for more strategic initiatives.
Also, for those who are still learning the SEO basics, organic marketing software can often eliminate some of the guesswork of content strategy, helping users discover keywords, develop content ideas, or even recommending specific SEO tasks for the users to complete.
Recommended SEO Tasks from OTTO.
The benefits of SEO automation also extend beyond just smarter, more successful campaigns.
Saves time: Content creation is hard work and takes time in planning, writing, and delivery. Automating certain parts of that process can mean faster turnaround times for content.
Saves money: A monthly software subscription usually costs less money than outsourcing time-intensive tasks to a freelancer or marketing agency or hiring additional employees to help your content strategy scale.
Increases volume: Automation allows you to complete certain tasks faster, from content creation to keyword research to public relations outreach. That means more keyword rankings, more content output, and more backlinks to grow organically faster.
Optimizes workflows: Replacing manual tasks with automation frees up the brainpower of your marketing team members, allowing them to focus on higher-level strategy decisions and those marketing tasks that still require a human touch.
Software or tools to automate SEO
There are a variety of marketing tools that are now available for users to automate various SEO tasks or parts of the content creation process. When choosing an ideal platform, here are some things you may need to consider:
What SEO tasks are currently the most time-consuming or resource-intensive for my business or marketing team?
Does this tool or software eliminate the pain points of those specific tasks?
Are there additional tools and features that are also available in the software platform? Will I use these tools?
How many users on my team will need access to the software?
Is there a free version of this tool I can access or does this require a monthly fee or subscription?
What is a monthly subscription price point that will save my team money?
Depending on how you answer those questions will determine which software tools are the best choice for your business.
Some SEO platforms are now so advanced and comprehensive, they can feel overwhelming or intimidating to first-time users. The reality is, you may not need all of the tools available in certain software platforms or may only use some of the available features.
That's why it's best to start with the specific task that you know you want to automate. Then, let that guide you to the platform or tool that will allow you to do so.
Some free and paid SEO automation tools you can look into include: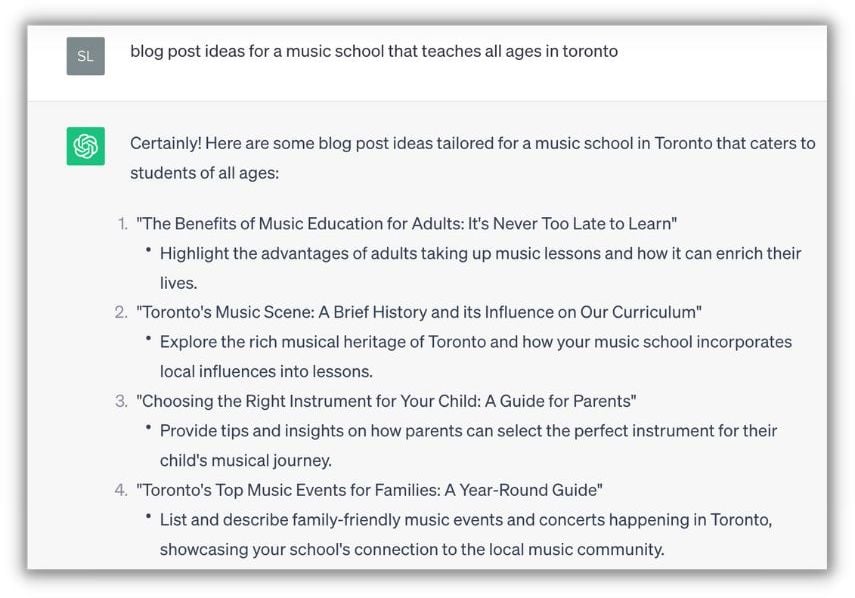 5 SEO tasks you can automate right now
Maybe you're not certain of which tasks in your SEO strategy can even be automated. Or, there might be certain tasks that you have not yet incorporated into your strategy because of their scope or complexity.
The below tasks are not only ripe for automation, but they are also an extremely important part of improving the effectiveness of your SEO campaigns and the organic performance of websites.
If you start automating some of these tasks, you will start experiencing the amazing benefits listed above.
1. SEO auditing
One of the best tasks that you can start automating right now is your SEO auditing and issue tracking.
The technical SEO health of our websites is critically important to ranking in search engine results and in top positions. However, the majority of digital marketers or small businesses only have a basic understanding of technical SEO and don't always feel comfortable working on the backend of their websites.
Also, running and interpreting SEO audits takes a higher level of technical SEO knowledge. If you do not have the technical know-how on your team–these tools automate the auditing process, identifying technical issues almost immediately and providing a precise roadmap for how to resolve them.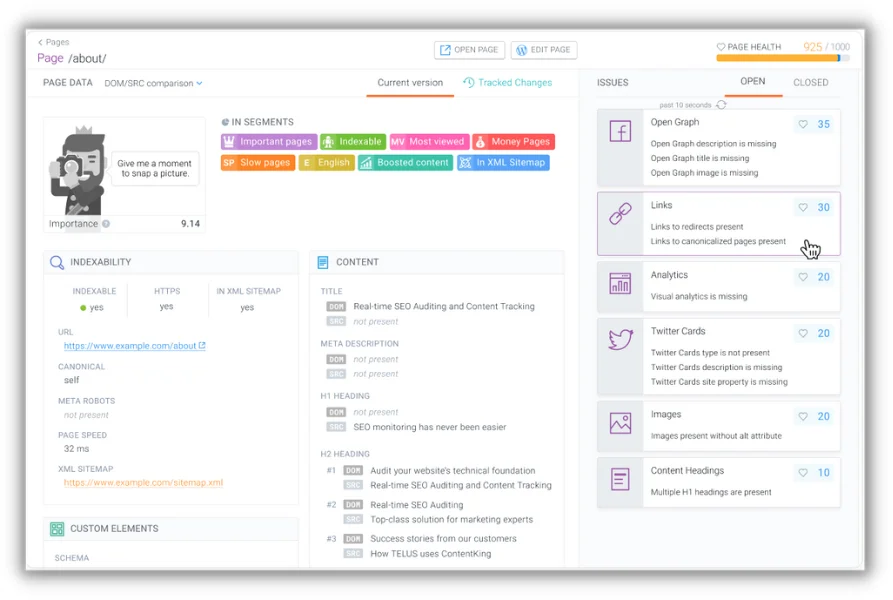 An SEO audit report generated in Content King
Tools like Search Atlas and Content King offer 24/7 website monitoring, meaning if something happens on your website that might impact your SEO performance, you will be notified immediately by email before it has any negative impact on your keyword rankings.
With detailed guides on how to fix those issues, you can simply hand over instructions to your web developer or backend manager. And because issue tracking is automated, you never have to worry about "missing" a critical issue that will tank your organic rankings or traffic.
2. Keyword clustering
The SEO strategy referred to as keyword clustering can help you increase the total number of keywords that a particular page ranks for.
But historically, the process of keyword clustering has required a lot of manual spreadsheet work by SEO and content strategists. Clustering involves ciphering through hundreds to thousands of keywords, looking for those that can be paired together due to topical relevance, search volume, or competitive landscape metrics like Keyword Difficulty.
Now, some SEO software platforms can automate the process of keyword clustering for their users. For example, an SEO content planner will cluster keywords by ranking potential, relevance, and search volume to help content marketers identify realistic opportunities for ranking in their industries.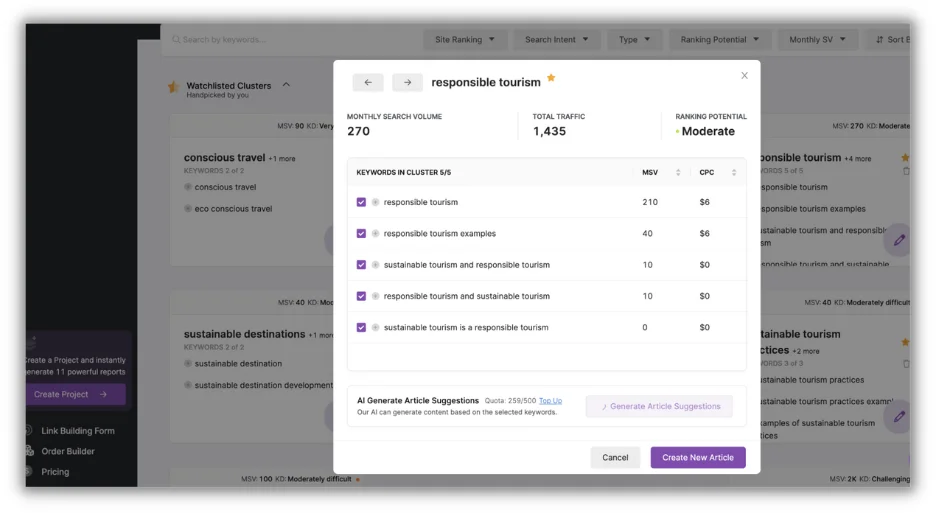 A Keyword Cluster for "responsible tourism" in the SearchAtlas content planner tool
Content Marketing teams can then tackle these clusters one by one, creating relevant content that has the potential to rank for the valuable groups of keywords these tools identify.
If you don't have a person in-house who can do comprehensive keyword research for your brand, or you simply can't afford to hire that person at this time, these tools do hours of keyword research work in a fraction of the time.
3. Topic generation
The process of moving from a keyword to a content idea is one of the best tasks to automate using AI content generator tools.
Coming up with an original blog post idea or article title requires creativity and brainpower. If you're producing content at a high volume, then this particular SEO task is a regular part of your content planning process.
Blog topic generator tools will provide multiple templates or ideas for your SEO content. You can then edit the titles and ideas to better fit your brand voice, your specific products, services, and target audiences.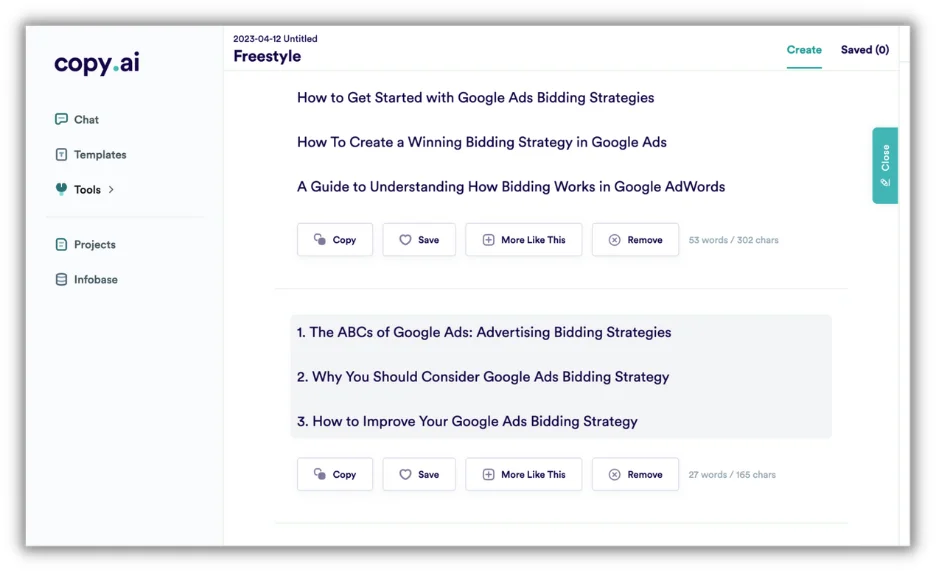 Blog post ideas generated in copy.ai for the keyword "google ads bidding strategies"
Google wants to rank content that is created by humans for humans, so do not simply use ChatGPT outputs as your content. It's important to look at these tools as providing a first draft or outline that your team can then work from. They are helpful for avoiding writer's block or for those marketing teams that don't have in-house content writers or creatives.
If you're new to content strategy and don't have any content on your website, topic ideation can be a great task for automation in the early days of your content strategy. It can take some time before new websites start earning organic traffic, but publishing blog posts on a consistent basis is a way to speed up results and start seeing traffic sooner.
4. Content briefs
Traditionally, content strategists hand over a content brief to writers that outlines all of the details a piece of content needs to have for the best ranking potential.
Putting together content briefs can be time-consuming. These briefs are often generated after extensive research and provide content writers with:
Target keywords
Suggested word counts
Readability level
Recommended internal links
Focus terms or suggested terms
Common questions
Suggested Headings
Additional elements that are important for on-page SEO.
Content Brief Generator tool from Dash word 
The process of content brief generation can be automated with one click. These tools prompt users to provide an article title and summary. Then, the software generates a high-quality content brief that can be easily edited and better tailored to the content's goals and target audience.
In terms of volume, this automation can mean generating more content briefs in less time, helping you get more content assignments to writers. With hundreds of briefs, you'll always have the next content outline you need to keep expanding your organic presence.
5. SEO reporting
Creating SEO and content performance reports can be extremely time-consuming. The larger your organic presence, the more complex and comprehensive these reports can become.
But there is really no avoiding SEO reporting, as it is the key to proving the value of SEO efforts and optimizations to key stakeholders at your organization. This is particularly true for SEO freelancers or marketing agencies who provide SEO services to clients.
Depending on the goals of your campaign, there are certain metrics that you may want to highlight over others in your reporting.
Finding a software platform that generates SEO reports can help you eliminate the time-intensive nature work of this work. Many marketing platforms now include the Google Search Console API, meaning you can be confident that your website data is an accurate and complete picture of your website's organic performance.
SEO tasks to avoid automating
There is likely an automation tool for almost any task that you are performing for your SEO strategy. That doesn't mean, though, that you should set your SEO strategy to autopilot and remove the human touch entirely.
The below SEO tasks are those that you should still delegate to humans because they are essential to achieving top-ranking results in Google.
High-quality content writing
Google recently made it clear that the use of AI-generated content is not against their policies. Their focus is on the quality of the content, not on the way that it was produced.
So using content generation tools during your content writing process is certainly a great strategy. But although these tools are impressive, the content quality is still limited. Purely publishing auto-generated content without bringing in the human touch to the process is unlikely to produce the type of high-quality content that it takes to rank in top positions.
High-quality content needs to embody Google's E-EAT philosophy, meaning it includes experience, expertise, authority, and trust.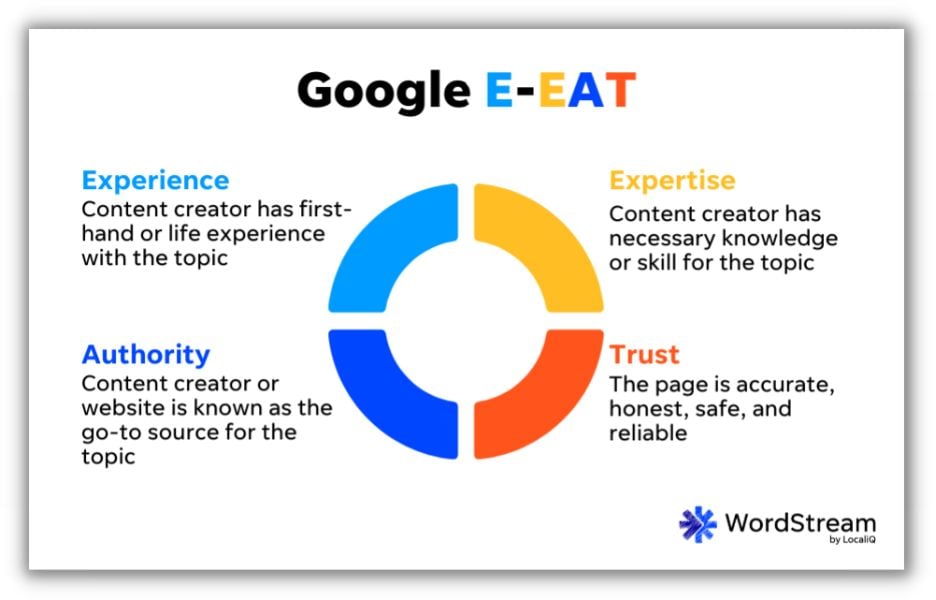 Remember, ChatGPT was trained on data from 2021 and above, meaning it isn't really capable of bringing something "new" to the conversation. Google wants to rank content from websites that are thought leaders in their industries–that means bringing original ideas and strategies to the conversation.
This is even more reason to look at these text automation tools as a starting point for content writing, not a substitute.
High-level SEO strategy
Succeeding in organic search also requires understanding what type of content is already ranking on the first page of Google. Factors like relevance, search intent, word count, featured snippets, People Also Ask, and more can all impact whether your content has more or less ranking potential.
Some marketing tools make it easier to find all of the information you need to make strategic decisions, but a human eye is still needed to make decisions that are the best for your business and your unique goals. You don't want to be investing time and resources into content creation for keywords that are out of reach or creating the wrong type of content that doesn't provide users with what they are actually looking for.
Understanding key SEO metrics like Domain Authority, Domain Rating, Keyword Difficulty, and search intent is still an absolute must for those executing your SEO efforts. Having a fundamental understanding of these important SEO factors will help you understand how to leverage these tools to their fullest potential.
Do SEO automation the right way
SEO automation is truly the way of the present and future.
If you want to succeed in organic search, it's important that you start familiarizing yourself with the many ways automation can be integrated into your current marketing strategy.
Getting comfortable with these tools may have a little bit of a learning curve, but it will be well worth the effort for the benefits it brings to your organic performance and your bottom line.